Stone Crab Festivals at Clearwater Beach
The Stone Crab Festival at Clearwater Beach is held between October 24th and 27th in conjunction with the official stone crab season which is between October 15th and May 15th. The stone crab itself is not eaten but rather its large claw, which is considered a delicacy. The crabs are harvested in southern Florida and when they arrive in Clearwater Beach, it's time to celebrate. Locals arrive from all corners and some folks even fly in to enjoy the event. It is truly a festival atmosphere, dedicated to enjoying this seasonal treat.
Stone Crab Festival Locations in Clearwater Beach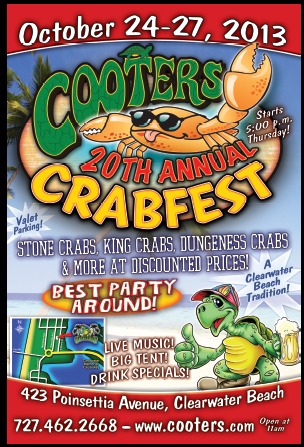 Two main locations put on great festivals for stone crab season. The first is Cooters, located at 423 Poinsettia Ave in Clearwater Beach. Tables are set out for a large crowd. It is a festival after all. A similar event occurs at Frenchy's on Baymont St., where they block off the street, creating a party-going atmosphere with large crowds. As we said, it is a festival. The two locations are within walking distance of one another, like most things in Clearwater Beach.
See You at the Stone Crab Festival in Clearwater Beach
We hope to see you here at the Stone Crab Festivals. Clearwater Beach is a fun place to visit any time of year. With the great October weather and the fantastic food, this is definitely a great time to visit. Come join us at this year's event!