Beach Walk Chalk Walk Returns
Get ready for a special visit to Clearwater Beach this October 25th through 27th for the Beach Walk Chalk Walk. The sidewalks of Beach Walk will again be swarming with artists and onlookers, creating a one of a kind event at the beach. Artists created remarkable art last year. It is amazing to see what they can create with chalk. The winners of last year's event can be seen here. Artists invited to the event are local artists, students, and artist groups. This is the second Chalk Walk of this type of Clearwater Beach, making us suspect it might be even better than last year.
Beach Walk Chalk Walk Fun
One of the great things about an event like Beach Walk Chalk Walk is the extra community buzz that goes with it. Clearwater Beach is already an exciting vacation destination. Events like the Chalk Walk make it even more so. Local businesses sponsor the event and you will find many of their names and logos drawn in chalk at the event. With the event comes the opportunity to spend the day at the beach, walking the sands, shopping the shops and picking your favorite beach diner. Make your plans to come join us at Clearwater Beach.
Stone Crab Festivals at Clearwater Beach
The Stone Crab Festival at Clearwater Beach is held between October 24th and 27th in conjunction with the official stone crab season which is between October 15th and May 15th. The stone crab itself is not eaten but rather its large claw, which is considered a delicacy. The crabs are harvested in southern Florida and when they arrive in Clearwater Beach, it's time to celebrate. Locals arrive from all corners and some folks even fly in to enjoy the event. It is truly a festival atmosphere, dedicated to enjoying this seasonal treat.
Stone Crab Festival Locations in Clearwater Beach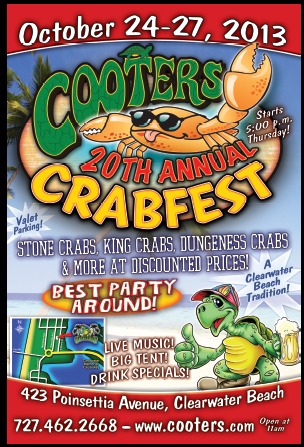 Two main locations put on great festivals for stone crab season. The first is Cooters, located at 423 Poinsettia Ave in Clearwater Beach. Tables are set out for a large crowd. It is a festival after all. A similar event occurs at Frenchy's on Baymont St., where they block off the street, creating a party-going atmosphere with large crowds. As we said, it is a festival. The two locations are within walking distance of one another, like most things in Clearwater Beach.
See You at the Stone Crab Festival in Clearwater Beach
We hope to see you here at the Stone Crab Festivals. Clearwater Beach is a fun place to visit any time of year. With the great October weather and the fantastic food, this is definitely a great time to visit. Come join us at this year's event!
Get Ready for the Clearwater Jazz Holiday
The Clearwater Jazz Holiday is coming soon. If plan to attend one of Clearwater's favorite events, you might want to make sure you make your plans now. If you are not a local resident, finding accommodations now might be a good idea. The festival ordinarily pulls in about 10,000 people a day to watch and listen to great jazz artists. This year, to draw in larger acts, the event is charging a $15 entrance fee, reduced to $10 for advance tickets. The move has apparently paid off and, according the Jazz Festival Facebook page, headliners will be Chicago, Average White Band & Tower of Power, and Brandi Carlile.
Tips for the Clearwater Jazz Holiday
The Clearwater Jazz Holiday is held October 17th to the 20th. It is located at Coachman Park, just down the hill from the Clearwater Library on Osceola Avenue, and just north of the causeway bridge to Clearwater Beach. Parking your car can be a challenge but generally vacant lots are made available for parking and the street parking to the east absorbs the rest. Be ready to walk a few blocks to the festival. Pack light chairs, blankets, and put any spare gear in an easy to carry bag or pack. Outside drinks and food are not allowed. Also this year, due to the entrance fee, you will not be allowed to come and go as you please, so take everything you will need on your first trip. We recommend sunscreen and hats for the daytime and blankets and jackets for the night, just in case.
Have Fun at the Clearwater Jazz Holiday
The Clearwater Jazz Holiday is fun. Food vendors, live music and lots of people make the event a success every year. Add a beautiful sunset over Clearwater Harbor, and you have the makings of a great event. Bring your friends or family for a good time in the outdoor spaces of Coachman Park. This event is a Clearwater favorite.
Super Boat Races Return to Clearwater Beach
Super Boat Races at Clearwater Beach brings one of the best crowd pleasing events of the year. Moving in excess of 150mph, these sleek race craft of varying designs streak across the turquoise waters just off the shore of Clearwater Beach. With as many as eight different classes of boats using various hull designs, spectators will be able to enjoy days of racing along the spectacular Florida Gulf Coast. Clearwater Beach is fantastic destination any time of the year. With an exciting event like super boat racing, it is certain to make the best beach in America even more dynamic.
Watching Super Boat Races at Clearwater Beach
What could be more fun than watching Super Boat Races at Clearwater Beach? Not much. The white, powder-soft sands of Clearwater Beach, as well as loads of tourist attractions like gift shops, dining, day cruises, and other dynamic activities have earned our beach the number one rating in America from USA Today. The perfect environment for fun, with Super Boat Races added in, just can't be beat. Spectators line the section of beach near Pier 60, or pay $20 to stand on the pier for the event. Other locals and visitors take a more adventurous approach by going out onto the water in boats. Countless private craft surround the race course along with charters and Clearwater Beach harbor cruise boats. Beautiful Florida September weather adds the final touch.
Come See the Super Boat Races at Clearwater Beach
Join us here at Florida Beach Rentals as we celebrate the Super Boat Races at Clearwater Beach. Our check in offices are just down the beach from the races and you can be we will be stepping out to watch a few of the races as the three days of racing in September go by. Race event dates are September 26th through the 29th. Choose your favorite boat class or your favorite team and then join the beach goers and recreational boaters to see who winds up on top. We'll see you there!
Save
Central Gulf Coast Activities
Florida Beach Rentals vacation lodgings are primarily along the beachfront. However, the Central Gulf Coast has some great activities just a short distance inland. All the activities listed below are within an hour of most our rentals.
AMC Theaters, Woodland Square, Palm Harbor
Armed Forces Military Museum, Largo
Barnes and Noble bookstore, Clearwater
Celebration Station arcade and go karts, Clearwater
Cobb Theaters, Countryside Mall, Clearwater
Congo River Putt Putt, Clearwater
Countryside Mall, Clearwater
Dali Musuem, St Petersburg
Florida Craftsmen, St Petersburg
Heritage Village, Largo
Leepa Rattner Museum of Art, Tarpon Springs
Morean Arts Center, St Petersburg
Roberts Christmas Wonderland, Clearwater
Suncoast Primate Sanctuary, Palm Harbor
Tampa Bay Automobile Museum, Pinellas Park
Tampa Bay Grand Prix go karts, Clearwater
Tampa Bay Stand Up Paddle Board, Safety Harbor
Dunedin sits on the shores of Saint Joseph Sound but also claims two of the two top island beaches on the Central Gulf Coast. While the list of things to do, see and eat in Dunedin is lengthy, here are a few links to get you started.
Dunedin Restaurants
Dunedin Beaches
Dunedin Activities